This was pointed out to me today on Simsecret: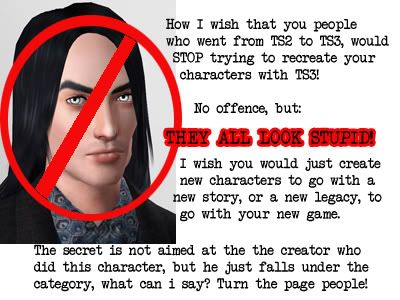 Seriously, what is it that makes some people so hateful? I know this "secret" wasn't aimed solely at me, but still… What gives them the right to think they have the right to tell me what Sims I should or shouldn't be making? They are my characters. I can do whatever I damn well want with them.
And really…"no offence [sic], but…". The only time that phrase is used is when someone knows they are being offensive.
Also, "the secret is not aimed at the creator who did this character…". Ri-ight… They why was a picture of my character used to illustrate your point?
Grrrr… I really, really hate people sometimes.
This really pissed me off. Normally, I'd try to ignore something like this, but I guess it just came about at an emotionally fragile time. I think I'll just keep this site for Sims 2 stuff from now on and enjoy my Sims 3 characters on my own.